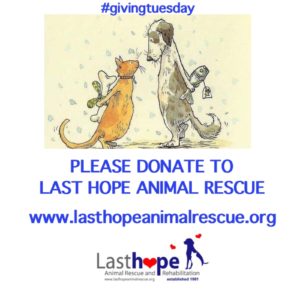 It's #GivingTuesday.
Would you consider giving to LAST HOPE?
#GivingTuesday is a worldwide effort to kick-off the holiday season with a day of giving back to causes that matter most to YOU. We hope you'll take a moment to make a donation of any amount to LAST HOPE.
If each LAST HOPE supporter gave at least a $1 donation today, November 28 #GivingTuesday- the joined generosity would make a great impact on our animal welfare efforts.
After 36 years of grassroots rescue, Last Hope volunteers continue to give their time & talents rescuing, vetting, neutering & placing cats fending for themselves on the streets, as well as dogs and cats lingering in municipal shelters on Long Island & dogs from overcrowded Southern shelters. In 2016, Last Hope placed 500 cats & 300 dogs in loving responsible homes.
We provide Fix-A-Feral vouchers & Free Trap/Neuter/Return clinics so thousands of feral cats each year will be spared suffering. On Nov. 19th,  73 cats were helped at a LAST HOPE Free TNR Clinic.
Last Hope offers free rabies vaccine & other low cost shot clinics for all Long Island pet owners, and subsidized vet care for Long Island owners facing hard times.
Join us on November 28 – #GivingTuesday- and be part of this tradition of generosity.
Please make you gift via our secure donation link (credit card or PayPal) below; or if you prefer, mail a check to Last Hope, PO Box 7025, Wantagh, NY 11793.
http://lasthopeanimalrescue.org/donate-to-last-hope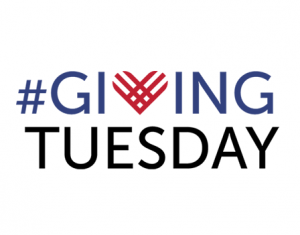 THANK YOU so much.