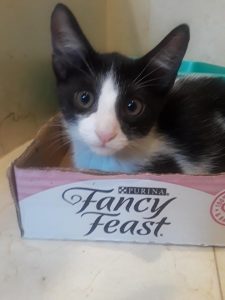 GRACE is a beauty queen and she is waiting for you.
Grace is a gorgeous tuxedo girl with big ears and a cute button nose. Grace and her siblings were born in May 2020 and have since been in foster care getting lots of love, playtime and cuddles.
Grace loves to play and cuddle but as you can see, she also likes to sit in Fancy Feast food boxes. How adorable is she?
If you are interested in adopting Grace, please fill out an adoption application from our website homepage.
I've found my forever home! Thank you!