Please DONATE PET FOOD
Last Hope is a Drop-Off Location for LONG ISLAND CARES- Harry Chapin Food Bank
BAXTER's PET PANTRY. Drive goes until April 30th.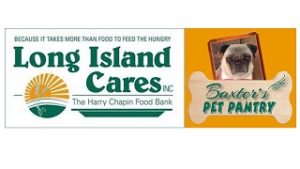 We are collecting NEW, Unopened:
* dog & cat food- dry & canned
* pet treats (made in USA)
* cat litter
Please No raw hides, treats made in China or opened/ expired bags.
LONG ISLAND CARES will add your donations to their food pantries throughout Nassau & Suffolk for pet owners in need.
In the 7 years since BAXTER's PET PANTRY has existed, LONG ISLAND CARES has
provided 1.3 million lbs of pet supplies so owners facing hard times are able to nourish their beloved pets.