On May 5, BISSELL Pet Foundation
will cover the adoption fees at 111 shelters
and rescues across 13 states.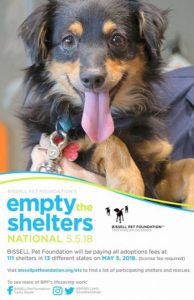 LAST HOPE is one of the rescues nationwide joining this huge shelter adoption campaign.
We will waive adoption fees on Sat.May 5th b/c of generous, financial assistance from the #BISSELLPetFoundation.
In 2017 LAST HOPE had some amazing dog & cat adoptions during BISSELL Pet Foundation EMPTY the SHELTERS, including RUDY our 3-legged Pit finding his FOREVER FAMILY after spending over a year combined at Hempstead Town Shelter & LAST HOPE.
LAST HOPE will be following our standard application procedures to ensure pets
go to the best homes.
All adopters will be screened, as usual, and will be required to fill out an application, plus a short survey from BISSELL Pet Foundation.
We will take time, as always, to be certain
each pet finds the perfect, forever family.
Please LIKE the #BISSELLPetFoundation FB Page so together we can spread the word that adoption should be the first option.
To find the full list of participants or to donate to the EMPTY the SHELTERS initiative,
visit:
https://www.bissellpetfoundation.org/ets
Follow the faces of rescue on Cathy Bissell's Facebook and Instagram @bissblackdogs.