LITTLE BIT is just that. She is a little bitty Beagle- less than 10 pounds and full grown.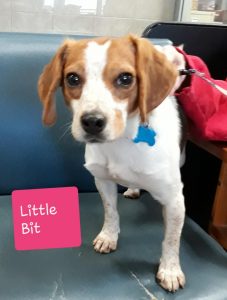 She came to Last Hope at the beginning of 2020 as an owner surrender- age 5-  from a Kentucky shelter so her age should be accurate. But this little girl seems so much younger…more like 1-2 years old. Her adult teeth are sparkling white, and her demeanor still puppyish.
LITTLE BIT has the look of a perpetual Beagle puppy….
Imagine how nice that can be.
Meet this LITTLE BIT at Last Hope in Wantagh. Chances you will be much more than a little bit smitten with her.
I've found my forever home! Thank you!