MERCEDES Would Like to Move Forward. 
No matter how horrific, sad or neglectful, cats & dogs don't dwell on the past. They live in the present.
This spring MERCEDES gave birth to 4 kittens in the garage of a kind couple. These people have come upon hard times. The wife is quite ill, and they are losing their home.
MERCEDES finished nursing her tiny motor vehicles at Last Hope. The kittens hit the showroom before Mom who had to wait for her milk to dry before spay…(1 Kitten still available. PORSCHE at Last Hope Wantagh. )
MERCEDES is spayed now and ready at Last Hope Wantagh to accelerate into a loving home. MERCEDES is a sweet & beautiful calico..a purrfect cat combo.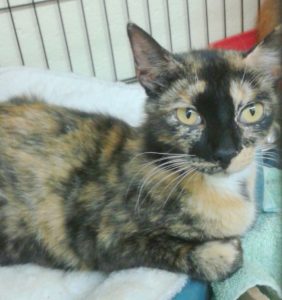 I've found my forever home! Thank you!