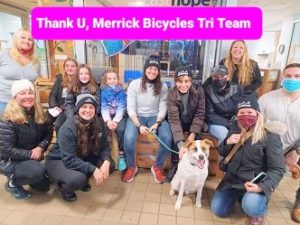 Wow! Merrick Bicycles Tri Team is so GENEROUS to Last Hope
           The club Donated $1,300 to Last Hope!
This group of kind-hearted athletes is sponsoring an ongoing 5-week wellness competition called
"SPREAD the CHEER CHALLENGE".
46 people registered for this event where they earn points for participating in athletic, well-being, sports, even meditation sessions.
The points are cumulative, and are used toward raffles of gift certificates for future well-being sessions such as yoga.
Merrick Bicycles Tri Team contributed $1,300 to Last Hope, raised by registration fees & additional donations.
A group participants visited Last Hope on Mon-Betty White's 100th Birthday – to present their amazing gift & to meet our dogs & cats .
BANDIT, the current best dog athlete, was thrilled with their visit, & became an honorary member of the
"SPREAD the CHEER CHALLENGE "team.
And as a BONUS, members of the team plan to volunteer with the Last Hope dogs soon, and engage active pups in exercise.
Many Thanks to The Merrick Bicycles Triathalon Team. Last Hope appreciates Your Generosity.
We Look Forward to Working with YOU