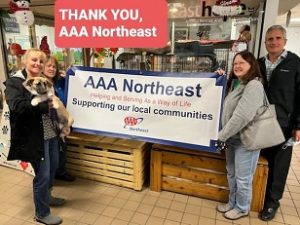 Last Hope's So Grateful to AAA Northeast
The well-known automobile & driver advocacy organization gave Last Hope a $2,000 donation this week to support our community outreach projects.
(Wait until You Read Later about Last Hope 's feline connection to AAA Northeast…)
Besides being a national advocacy & assistance organization for automobiles, travel & the American motorist, AAA Northeast gives financial bonuses to certain non-profits, & also provides community campaigns for those in need including holding local food drives & safety seat giveaways,
Mike Rotundo from AAA Northeast (shown) interviews suggested non-profits to determine the group's impact on the community.
This generous AAA Northeast gift will enhance:
*Last Hope's TNR (Trap/Neuter/ Return) clinics & vouchers for feral cat caretakers
& the public;
*free & low cost vaccine clinics for owners' pets;
* financial veterinary assistance to qualified owners facing hard times.
* humane education.
We owe consideration for the AAA Northeast gift to GINGER the cat- a very smart cat adopted by the mom of Gayle Zukowsky who adopted the orange tabby in Nov 2018.
Back in 2018 this homeless cat wandered into a Farmingdale flower shop where a Last Hope volunteer happened to work. How did she know that was the right place to go?
The volunteer rescued & fostered GINGER until she was ready for adoption. Next she had a relatively short stay at Petco Wantagh before finding a loving home with Gayle's Mom.
Below is the 1st update from Gayle about GINGER's new family in 2018:
"Wanted to share some photos of Miss Ginger. She's been with Mom for one week, and has made herself totally at home! She is a sweetheart.
"