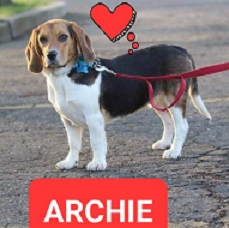 ARCHIE is a Heart-Throb Beagle

A Lover Boy, a Sweetie Pie.
He's not looking for a comic book Betty or Veronica. NOPE.
ARCHIE is searching for a Real Person or Family to Embrace Him.
He's a 3 yr old Rescue from Kentucky, and if You Adopt Him, there is a Good Chance He Will Rescue You Right Back.
I've found my forever home! Thank you!