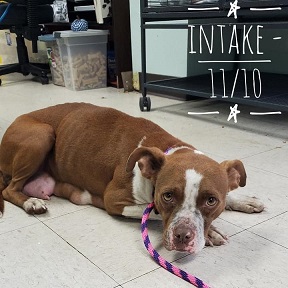 BLOSSOM Blossomed in a Georgia Shelter, and now She Needs a FOREVER HOME via Last Hope .
When a dog comes from an abusive or neglectful home, it can be a blessing to be owner-surrendered to a shelter when there are caring staff members.
That shelter is the dog's Waldorf Astoria compared to the bad home she had.
Such is the case with BLOSSOM & LOTUS, arrivals on Last Hope's latest Georgia transport.
The same man surrendered BLOSSOM & LOTUS now adopted) . The shelter staff felt they were sisters.
BLOSSOM had clearly whelped a litter shortly before the man turned her in, but he refused to tell the shelter what he had done with her puppies.
Both BLOSSOM & LOTUS were frightened at the shelter when they first got there; but the kennel workers showed them so much TLC, they settled & became staff favorites.
The staff pleaded with Last Hope to take both sisters…and we did.
Look at the 2 photos of BLOSSOM… taken in Georgia.
Compare BLOSSOM on intake in November to BLOSSOM after TLC at her Georgia shelter.
To meet BLOSSOM by appointment at Last Hope in Wantagh, please complete and submit a dog adoption application found on the Last Hope website homepage.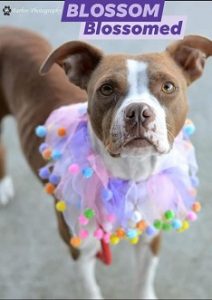 I've found my forever home! Thank you!