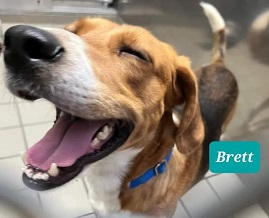 Please Help Make BRETT SMILE & LAUGH LIKE THIS.
Hound Dogs-SHANIA & BRETT -are Last Hope 's first rescues ever from M-I-S-S-I-S-S-I-P-P-I.
This 2 sweet dogs are part of flight transport tomorrow from an abuse situation in Mississippi.
BRETT is a 1 yr old Hound mix. He & other Hounds were kept outside, and deprived of food & water to make them run faster in Field Trials.
Read that last sentence again.
Does it make sense? When did starving & torturing dogs start making them run faster?
The Bissell Foundation backed this big rescue, paid for the mercy flight to NJ…and Kent Animal Shelter picked them up at the airport to deliver to Last Hope & their shelter in Calverton.
BRETT arrived timid.. Happy to go outside on walks but reluctant to return to his kennel run.
He has made lots of progress in a week. Our volunteers are helping BRETT to put his terrible past behind so he can smile at the future & find a FOREVER HOME.
I've found my forever home! Thank you!