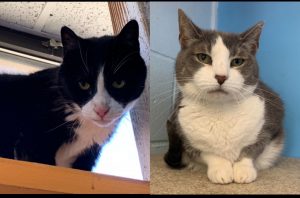 Cindy is a beautiful girl with a sad story to share. She was born in 2011 and adopted as a kitten. She had a wonderful home until her owner passed away. After her owner passed away, Cindy was left in an apartment for 6 months with just a litter box and mattress. Someone would come and give her food but this time without her owner and human contact made her shy and very withdrawn. She has been back waiting at Last Hope for about 3 years now.
She has no idea what happened to her owner and why she is back with us. Cindy is a very timid cat and she takes a long time before she is comfortable with someone gently petting her. She spends most of her days just cuddled in her cocoon bed resting. Cindy seems to enjoy the company of other calm, quiet and easy going cats. She has recently befriended another one of our long time residents, Tobie.
Tobie is a nearly 16 year old female tuxedo cat who was returned to us after her owner passed away  It has taken Tobie a long time to warm up to human companions again. Recently, Tobie has become comfortable with certain volunteers and will enjoy gentle pets on her head. She loves to play with the laser toy! She also enjoys the company of other quiet and gentle cats, which is why her and Cindy have bonded with one another.
Both Cindy and Tobie need a patient owner who understands that they will never be lap cats and do not like to be held. They will take a long time before they are comfortable with you petting them. Cindy has also been diagnosed with IBD and requires daily medication that she takes in her morning meal.
These two girls are not asking for much. They would just like a home where they could comfortably rest their heads and have a quiet place to enjoy their senior years. A comfy bed….a nice window to look out….and someone who will love them for everything they are and everything they are not.
We hope that we can find the right person who can show them that life will be okay again.
Come visit me at the Adoption Center in Wantagh, New York.