CLYDE Has Something to Confide:
Of course, he hopes a Beagle-Lover will notice him & race to a computer to send Last Hope an online application seeking to adopt him.
But CLYDE also wants you to look at his markings closely. Do you see the big, brownish-red Mickey Mouse Club Hat on his side?
If you do, you will understand CLYDE is Disneyfied..and life will bring you years of smiles, laughs & pleasantries with CLYDE by your Side.
CLYDE is a Kentucky rescue. He is 5 years old, and only 24 lbs. He seems to be good with kids & other dogs. So why are you hesitating?
To meet CLYDE by appointment at Last Hope in Wantagh, please complete and submit a dog adoption application found on the Last Hope website homepage.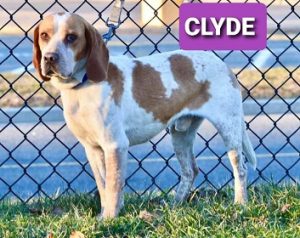 I've found my forever home! Thank you!