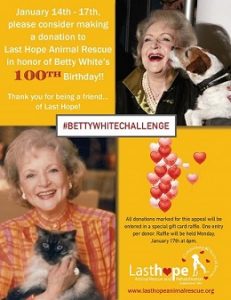 BETTY WHITE was a lifelong Champion for Animals, often the Last Hope for their survival or well-being.
We consider a donation of any size to Last Hope Animal Rescue a fitting tribute to Betty White in honor of her 100th Birthday which would have been Jan.17th, 2022
To give to Last Hope via PayPal, use the link below:
To mail a donation: Last Hope Inc, PO Box 7025, Wantagh, NY 11793.
Please write Betty White Challenge on the check subject line & outer envelope.
?
All donations marked for this appeal will be entered in a special gift card raffle. One Entry Per Donor. Raffle will be held on Mon. Jan.17th at 6pm.