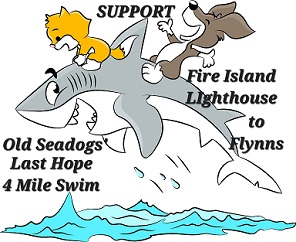 Scary Video of the Swim:
What Happened John Kappenberg swam 4 miles to Flynn's Restaurant to honor his 80th birthday and raise funds for Last Hope dogs & cats. He was accompanied by  his brother-in-law Tom Collings who in October 2021 did the K9 Mile Swim in Cold Spring Harbor to mark his 70th birthday and to fundraise for Last Hope pets.
When: On Wed., June 29th at 6 am, Tom and John plan to swam 4 miles on the bay side at the Fire Island Lighthouse to Flynn's Restaurant in Ocean Beach, and arrived at 10am. They were escorted by 2 kayaks. John and the 2 kayakers rowed the kayaks back to the lighthouse by 4pm.
Who are These Synchronized Swimmers: Tom Collins is a dog lover, retired law enforcement officer, former Zen monk in Japan and an instructor of meditation and martial arts at the Long Island Asian Studies Center who inspired his brother-in law John
Kappenberg,  a retired assistant school superintendent and a veteran lifeguard captain  many years at Gilgo, Cedar and Outlook Beaches. Both are advocates of prolonging health
and wellness into one's golden years, just as Last Hope tries to improve the health & welfare of older rescued pets so they can enjoy the "good life" in loving homes longer.
How to Donate: Monetary pledges of any size are appreciated. Donation suggestions: $80 for John's 80th birthday; $70 for Tom's 70th birthday, $40 for Last Hope's 40th anniversary in 2021; multiples of 4 miles such as $8, $12, $16…..Donations can be mailed to Last Hope, PO Box 7025, Wantagh, NY 11793, or made via the "Old Sea Dogs' 4 Mile Swim to Flynn's " PayPal link below: