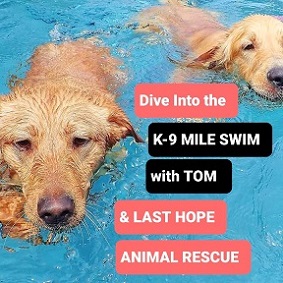 What Happened: On Sunday, Oct. 17th, Tom Collings of Bellmore swam 9 miles to mark his 70th birthday.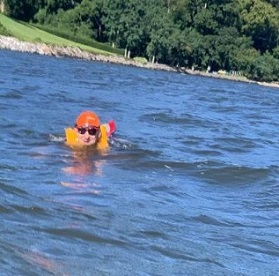 Where: Cold Spring Harbor to Lloyd Harbor and back, started at boat basin by Billy Joel Park. Tom was accompanied by 2 friends paddling kayaks.- Andrew Pannullo, Tom's massage therapist and Dr. David Komatsu, professor of medicine and martial arts teacher at Stony Brook University. Dr.Komatsu kayaked near Tom on the way to Lloyd Harbor and Andrew Pannullo was his kayak escort on the return swim to Cold Spring Harbor.
The first 4.5 miles of the swim to Lloyd Harbor took Tom four and a half hours because the wind was so bad and the waves were very choppy. However, the return trip only took Tom two hours because the wind was at Tom's back and sped him along.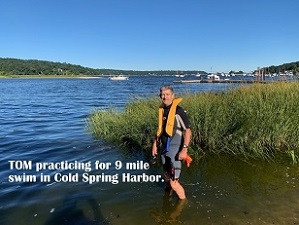 Why: Tom is a wellness advocate and dog lover. He hopes his milestone birthday swim will promote pet adoptions and wellness. He's asking people to sponsor his swim with a $ pledge to Last Hope Animal Rescue in Wantagh to support Last Hope's veterinary care and adoptions. Tom has spent his life helping people improve their health and mental outlook. Many Last Hope's dogs and cats are not rescued from rough situations until they are older, or even seniors. Their wellness is a concern. By providing thorough vet care for our mature pets including dentals, lab work, x-rays and other procedures when necessary, Last Hope strives to place them in loving homes where they will thrive for years to come.
Two days after completing his swim, Tom visited Last Hope to meet our adoptable dogs.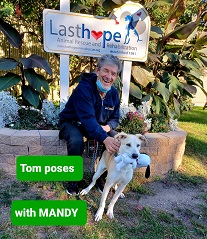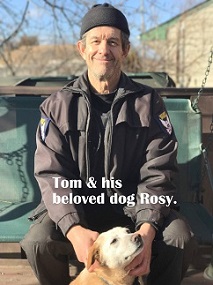 How to Donate: Monetary pledges of any size are appreciated. Donation suggestions: $70 for Tom's 70th birthday, $40 for Last Hope's 40th anniversary, a dollar amount per mile such as $18, $27…Donations can be mailed to Last Hope, PO Box 7025, Wantagh, NY 11793, or made via the "K-9 Mile Swim" PayPal link below:
Bio: Tom Collings is an author, retired law enforcement officer, former Zen monk in Japan.  Currently involved in school security, also instructor of meditation and martial arts at Long Island Asian Studies Center, Bellmore, NY.
Newsday Story Oct. 10, 2021 link