**Many Thanks to Jaclyn Gentilesco, her Wantagh High School talented students and Wantagh Starbucks for showcasing Last Hope's adoptable dogs and cats in this fabulous art exhibit.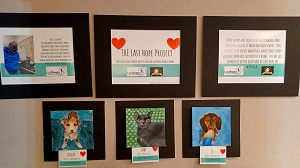 A MUST-SEE: The Last Hope Project-an Art Exhibit of Our Homeless Dogs & Cats by Wantagh HS Students- Now at STARBUCKS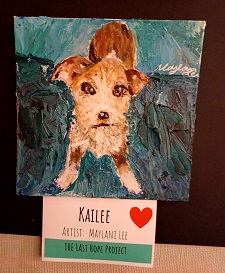 Art teacher Jaclyn Gentilesco at Wantagh HS & Middle School partnered with Last Hope on this wonderful project.
Last year she began asking her students to paint or draw portraits of Last Hope pets awaiting adoption by using their photos as models.
She would deliver her kids' masterpieces to Last Hope so we could display the artwork on the pet's cage or kennel to attract visitors & find the pets homes faster.
Later, the portrait is given to the adopters as a keepsake.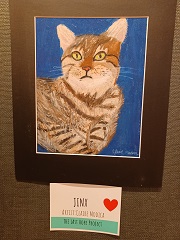 Not complaining, but often our pets are scooped up so quickly, there is no time to hang the portrait at Last Hope.
This year Jaclyn has the opportunity to display her students' work inside Starbucks on Wantagh Ave in Willow wood Shopping Center .
Presently, Pets from Last Hope Animal Rescue in Wantagh have become Jaclyn's students' masterpieces. Their portraits are gracing the walls of Starbucks Gallery.
Please stop by Starbucks in Wantagh to enjoy the "grande" art show of pets from a local rescue.
Skip the Drive -In. Park your car & order your coffee inside so you get the complete effect & "expresso" of Jaclyn 's talented art.
Such a beautiful local linking of students, animal rescue & a retail business.
Many thanks to Jaclyn for her creativity & inspiration of her young artists; and to Starbucks for providing such a welcoming venue for talented teens helping Last Hope pets find homes.