The DUKE of Bloodhounds Moved from Town of Oyster Bay Shelter to Last Hope.
DUKE is a 4 year old Bloodhound who lived with a Mastiff . Their owner was hospitalized, and now can no longer care for them.
The Mastiff went back to his breeder (responsible breeders do take their dogs back when owners can no longer keep them.)
But DUKE had no one to care for him and wound up in the town shelter. He loves to play fetch.
DUKE is very strong and hard to walk on a leash because he pulls. He would do best in a one dog home, and is too strong to be placed with young kids.
With the help of Bloodhound Rescue, Last Hope will be trying to SNIFF OUT the best, breed-experienced adopters for our new Bloodhound Boy.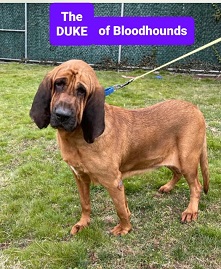 I've found my forever home! Thank you!