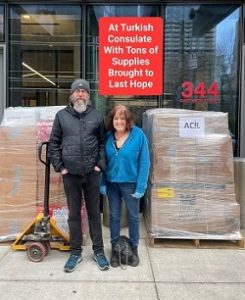 It Took a Packed U-Haul Van on Friday to Bring Tons of Emergency Supplies for People & Pet Earthquake Victims, Donated & Gathered by Last Hope Volunteers, to the Turkish Consulate. Turkish Airlines is Flying the Precious Cargo to Hard Hit Areas for Free.
Our huge contribution was unloaded by welcoming volunteers in NYC in one tenth the time it took for 3 of us to load the van on LI.
Packages & boxes of baby food, formula, diapers, baby bottles, flashlights, lanterns, dental necessities, shampoos, disinfectants, wipes, sanitary napkins & much for people in need.
Stacks of various size bags of dry cat & dog food- from 44 to 3 lbs- plus cases of canned pet food for stranded & lost dogs & cats.
Last Hope volunteer Bora, a biomedical engineer researcher & professor is from Adana one of the cities hit by the 2 huge earthquakes His parents evacuated safely at 4am on Feb 6 from their 12th floor apartment, took refuge in their car during after shocks & later drove to a relative's home nearby which has since been declared unsound. They have relocated at another relative's apartment.
Bora also posted our "Supply Drive for Turkey" on "Next Door Huntington" & large packages for Friday's trip were delivered to his door.
Bora & his wife Aybuke, a biologist researcher at Cold Spring Harbor Lab, made 2 previous trips to the Consulate to help sort & pack. They brought Last Hope's first load of supplies.
On Friday, Bora spoke in Turkish to grateful helpers outside the Consulate who were pleasantly surprised so much for All was donated by an animal rescue.
We stayed to sort, check expiration dates and pack with other helpers who all spoke English.
Large cubes of clear-taped & labeled boxes are marked "ACIL" which means "Emergency " & placed on pallets to be picked up by trucks for delivery to the airport. (See 1st photo)
The pouring rain stopped miraculously when we arrived at the Consulate, and then rain & sleet resumed on the way home.
Last Hope is sending an Enormous Thank You to Everyone who Participated in our "Supply Drive for Turkey".
Our monetary campaign for now 3 Grass Roots groups & an amazing school for orphans in Istanbul will continue until March 15th- Donation jugs remain at Last Hope Wantagh & our Thrift Shop in Huntington- more info soon.
As we turned to head to back, the United Nations is prominently in view- as a reminder "We are All Connected"…and, yes, that connection includes supplies & compassion from a Grass Roots animal rescue on Long Island.