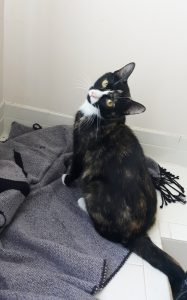 GRACE is a loving, affectionate and wonderful girl who will make her future family so happy. GRACE is estimated to be about 1.5 years old and was found outside in Blue Point with her kittens. Her foster mom saved Mom GRACE and her babies. GRACE was an amazing mom to her kittens. Now she waits for her chance to enjoy being a young cat herself. GRACE is  talkative and loves to have conversations with you. She wants to be by your side and will even climb on your shoulders to show you extra affection.
Grace is currently in foster care. If you would like to adopt Grace, please fill out an adoption form and an adoption committee team member will call you.
I've found my forever home! Thank you!