Help Last Hope Treat TITO….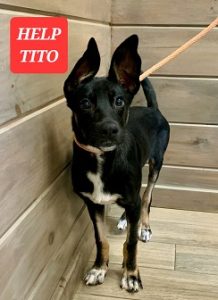 Update as of 4/12/2023: Thanks to the generosity of more than 80 donors, thus far,  we have raised over $7,000 toward our goal of $10,000 to defray Tito's veterinary bills. We are almost there……
Sometimes homeless pet rescues become more complicated and costly than expected. TITO and his 4 littermates were in the right place at the right time when friends of Last Hope on vacation came upon these skinny Shepherd mix pups foraging for food. They also noticed TITO was limping badly and had probably been hit by a car.
Last Hope made arrangements to bring the Shepherd siblings to Long Island. A day later TITO had orthopedic  surgery called an FHO to repair his shattered hip.
While recovering at our vet , TITO began having tons of trouble breathing so the staff rushed him to an emergency hospital where X-rays revealed TITO also had a Diaphragmatic Hernia- a life-threatening condition where sudden impact pushes various vital organs out of place. TITO crashed because his lungs were being crushed.
TITO had complex surgery at the emergency hospital to repair his Diaphragmatic Hernia. It was touch and go. His surgeon said TITO was a Trouper, cooperative, thanking everyone with licks and kisses. Then a few days later, TITO crashed again, requiring another surgery for further hernia repair.
The poor pup had three major surgeries in a week's time. This Tiny Trouper is now on the mend at our vet where he is being pampered big time.
However, the cost of saving TITO has far surpassed $10,000. Please help defray our expense to rescue TITO with a donation of any size marked "TITO" on the PayPal link below. Your gift will also enable Last Hope to save additional desperate dogs and cats like our Tiny Trouper TITO.