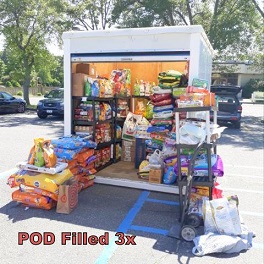 THANK YOU to our Kind DONORS who brought Pet Food to Our Drive on May 30/31st!
YOU Filled the Pod with Pet Food About 3 Times to Help Owners Facing Hard Times.
DELIVERED! All Pet Food Donated to Last Hope's Covid Crisis Food Drive Has Gone to Groups that Help Pets, Owners & Cat Caretakers in Need.
DISBURSED-
4 Vehicle Loads to LI Cares Baxter 's Pet Pantry.
1 Vehicle Load to Kids Adopt a Shelter
2 Pickup Truck Loads to Nobody Starves on LI, Almost Home, RSVP
Special Thanks to Gary Kaufman, founder of Nobody Starves on LI for Packing His Pickup Twice so 3 Groups could Share the Pet food.