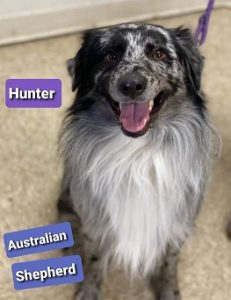 HUNTER is hunting for an Aussie or Herding Dog person to be his BFF.
He came to Last Hope over the weekend. This handsome , blue merle & white,
1-2 year old Australian Shepherd was turned into Brookhaven Town Shelter because his owners were moving.
But, by golly, his former owners are probably not "moving" as much as HUNTER- a K9 "jumping being." He is energetic and amiable like so many Aussies. It's in their DNA.
Australian Shepherds are as smart as they are active. He needs an owner who would love to channel his mind & be a jogging or agility partner. He already knows SIT, PAW and DOWN.
HUNTER has tremendous pup potential if guided by Herding Dog-savvy hands. Bet HUNTER will be able to close his eyes & visualize the A frame, tunnel & a complex agility course if exposed to the sport.
Do we see a title or even a MACH in HUNTER's future?
To meet HUNTER by appointment at Last Hope in Wantagh, please complete and submit a dog adoption application found on the Last Hope website homepage.
Come visit me at the Dog Adoption Center.
[contact-form 3 "Dog Adopt"]