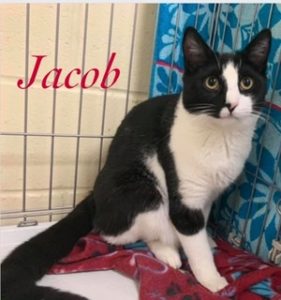 JACOB Learned Life Isn't Always Fair the Hard Way.
After being the last of his litter of 4 to be adopted, JACOB thought he was "home free".
Not Quite. He was returned after some time in his adopted home because the resident cat was afraid of him being so friendly.
Originally, JACOB & 3 tabby sisters were rescued from an East Meadow window well at 7 weeks old.
He turned 1 year old in April, and would love to be settled & pampered soon.
Instead, he is back in a cat condo at Last Hope Wantagh similar to the cage he spent so many months waiting the first time.
JACOB is so friendly & outgoing..
Too great a cat to be Left Behind.
Visit JACOB at Last Hope Wantagh.
I've found my forever home! Thank you!