JENNY wants to be Your Whole World.
Oh, Dear! Such a pretty 4 month old puppy- she looks like a petite fawn. She is 19 pounds now but is not done growing.
JENNY is a loving Lab/Hound puppy from a Kentucky shelter.. Playful, endearing, looking to be loved & guided into becoming the good girl we know she will be.
To meet JENNY by appointment at Last Hope in Wantagh, please complete and submit a dog adoption application found on the Last Hope website homepage.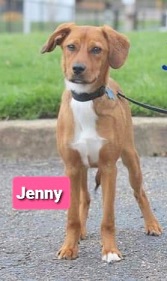 I've found my forever home! Thank you!