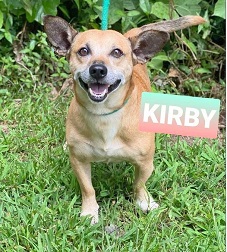 KIRBY is a Congenial Corgi Mix
He is a 3-4 yr old stubby-legged fellow from Habersham shelter in Georgia who was surrendered in a sad way. KIRBY likes to hang with his K9 cohorts. He's a go-with-the-flow kind of guy.
His video & then sad story from Madi at Habersham:
"Some info on Kirby
Here's a video with another doggie!
Sad Story: KIRBY kept going and visiting the neighbors. The
neighbors were worried some thing would happened to him since he kept wandering alone and he was so small.
They brought him home the first time. He was back. This time they called animal control.
But they didn't want to bring him to the crowded shelter unless necessary.
Animal Control brought him home and spoke with his family about the importance of making sure this little guy wasn't wandering alone.
Two hours later guess who is back at the neighbors.
The officer was concerned for Kirby's safety and brought him to the shelter.
When speaking with the owners this time they decided it would be for the best for Kirby to find a home where he would be paid the attention that he deserved.
Kirby's dad was going through very hard times and needed a little nudge to do what was best for him.
KIRBY gets along well with other dogs. Not super playful with them but he enjoys hanging out and cruising with his buddies.
Mellow and loves to be showered with attention! "
Help Last Hope find KIRBY the Great Home He Truly Deserves.
To meet KIRBY by appointment at Last Hope in Wantagh, please complete and submit a dog adoption application found on the Last Hope website homepage.
I've found my forever home! Thank you!