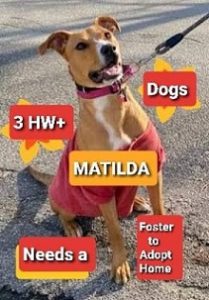 Last Hope has 1 Heartworm Positive Dog, Needing Foster-to-Adopt Homes.
Yes, Heartworm is Heartbreaking, especially if not treated.
MATILDA is a surprise HW+ dog.
She will do best in a Foster-to-Adopt Home while she undergoes treatment to rid her of deadly heartworm. She should be kept calm after each immiticide treatment to prevent a pulmonary embolism while the insidious heartworms dissolve.
Last Hope pays for the diagnostic tests, heartworm treatment & all vet care until the dog is done with hw treatment & the adoption is finalized.. We are still monitoring further testing until the dog is declared heartworm- free.
MATILDA is a surprise diagnosis. She is about 2 yr old. This Lab/Hound lost her first home in Georgia when a young couple had a baby, and there wasn't enough room in their apartment for a dog & a newborn. She lost her Last Hope home under sad circumstances. Her new Dad was diagnosed with a different, serious illness & must withstand treatments himself.
MATILDA is sweet but energetic & picky about other dogs.
*If you can see it in your heart to foster- to-adopt or merely foster Matilda, our HW+ dog, please contact Letty at lettycanals@gmail.com.
*And just a reminder, make sure your own dogs are up-to-date on Heartworm testing & Heartworm preventives…infected mosquitoes bite long & short haired dogs alike.