WE WANT YOU To Become a Last Hope KITTEN FOSTER PARENT….Please.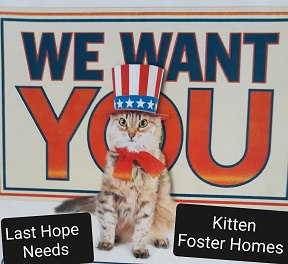 This year's Kitten Season is far from over.
We get so many calls for help with found kittens.
Most need foster care before they can be put up for adoption, but we don't have enough foster homes.
Last Hope provides bottle formula, food , medicines and all veterinary services for the kittens or cat while in your foster care.
There are various foster cat scenarios. Below are a few:
* infant bottle babies
* young kittens starting to eat solid food
* mother cat with nursing kittens
* kittens or cat needing handling & socialization
* kittens waiting to be big enough for spay/neuter
* special needs cat/ kitten
* plus more reasons.
If you are interested in becoming a Last Hope Feline Foster Parent, please email Doreen at
salemm25@aol.com .
THANK YOU!