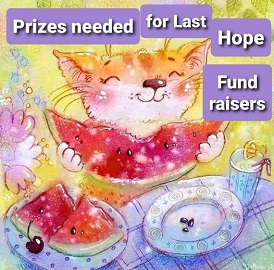 HAPPY FUNDRAISER NEWS- but we need YOUR Help!
After a year and a half COVID hiatus, Last Hope will be resuming public fundraising events in August.
We have 3 summer events already scheduled, but our stockpile of gift cards & new items for prizes & raffle baskets has been depleted.
*The first event will be a Barkin' Brunch at the Refuge in Melville on August 1.
*Then a SPAYghetti Dinner Fix-A-Feral Fundraiser at Levittown Hall August 13.
*And a Supermarket Bingo at Levittown Hall on September 24.
CAN YOU HELP by donating gift cards or new items that will can be either free-standing prizes or fit into raffle baskets?
*Bottles of Liquor & wine make fine prizes.
If you can donate, please bring these items to the Wantagh Adoption Center or call Terri at 631-332-6606 for more info.