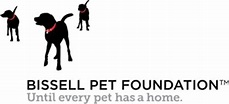 .
LAST HOPE is so THANKFUL to the BISSELL PET FOUNDATION for a $10,000 Grant to Expand our TNR VOUCHER PROGRAM for Members of the Public who are Helping COMMUNITY (aka FERAL) CATS .
With this generous grant , Last Hope will be able to subsidize 400 additional vouchers so cat caretakers' do not pay full price for each of these feral cats spay/neutered & vaccinated.
   Last Hope will receive a $25 stipend for each of 400 vouchers we issue through our FIX-A-FERAL program so Long Island residents  can afford to spay/neuter and vaccinate community cats they are feeding and caring for outdoors.
     This grant will lower the price Last Hope pays per cat so we can help more cats and people.
BISSELL PET FOUNDATION has given a tremendous gift to Last Hope, community cats as well as cat caretakers & trappers.