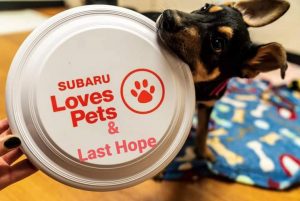 SUBARU Loves Pets & LAST HOPE
SUBARU Recently Gave LAST HOPE ANIMAL RESCUE a $6,200 Grant for operating expenses at our Adoption Center.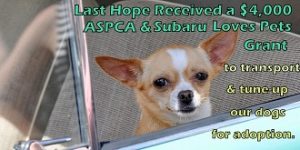 Last Fall,
LAST HOPE Also Received a $4,000 Grant from the ASPCA in conjunction with the SUBARU LOVES PETS Program.
We used these generous funds to "Transport & Tune-up" 8 Southern rescue dogs. FIRST to bring these desperate & deserving dogs to Last Hope on Long Island, & then to ready them for adoption by giving them basic plus individualized veterinary care.
Please Join Last Hope in THANKING  the SUBARU LOVES PETS Program for their Support of Last Hope's Homeless Pets