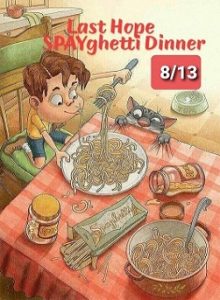 Join us Friday, August 13th for a SPAYghetti Dinner to raise MUCH Needed Funds for our Feral Cat Programs.
WHERE: Levittown Hall – 201 Levittown Pkwy, Hicksville
WHEN: Friday, August 13th at 6:30 pm
TICKETS: $25pp advanced purchase (or $30pp at the door) –  This will include
spaghetti (or spaghetti & meatballs), salad, dessert, and soda/coffee/
tea.
COMEDY SHOW: Featuring Special Guest Comedian Rich Walker
In addition to the Comedy Show, there will be a Basket & Gift Card Raffles,
a 50/50 raffle & lottery ticket board raffle.
Be Part of Saving Feline Lives on Long Island!
To Purchase Tickets in Advance ONLINE (no physical ticket; your name will be on a list at the door), link below:
To reserve tickets by MAIL, send your check to: SPAYghetti Dinner, Last Hope, PO Box 7025, Wantagh, NY 11793.
For More Info and/or RSVP: Letty at 631-946-9528; lettycanals@gmail.com or Terri at 631-332-6606; montauk1219@yahoo.com