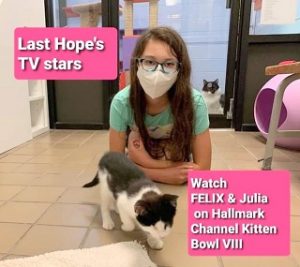 FELIX (aka SENSEI) & his big sister Julia were featured on Hallmark Channel Kitten Bowl VIII on Sunday, Feb. 7th.
See them on TV below by clicking on YouTube link below.
FELIX had both eyes removed but doesn't allow that to stop him from being a Remarkable Kitten.
Julia is a Kitten Bowl star veteran. She was featured on Hallmark Channel Kitten Bowl IV
with LIAM (aka DUSTY from Last Hope) who is also a Remarkable Cat with no eyes.
We are so proud of Julia, FELIX & LIAM, and so grateful to Hallmark Channel for starring Julia as a young advocate for disabled pet adoption & our feline alumni FELIX & LIAM as spokescats for the amazing ability of physically challenged kitties to overcome all obstacles to becoming beloved pets.
Last Hope is thrilled to be able to take part in Hallmark Channel's annual event promoting homeless cat adoptions on national television.
Watch the Kitten Bowl YouTube segment below: