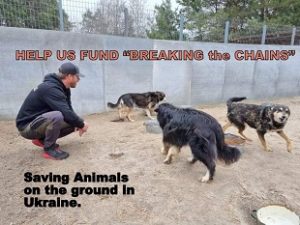 Donation to Breaking the Chains as of 6/17/22 = $4,932
Please Join Last Hope Animal Rescue this month in raising funds for "Breaking the Chains" a group of retired British military personnel working on the ground in Ukraine, despite the dangers, alongside other international groups trying to save animals and owners.
"Breaking the Chains" also has military media experts, documenting their joint missions of mercy.
How Last Hope is Raising Money for Ukraine Pets:
1) We donated 10% of the net profits for the month of April from sales at our Last Thrift Shop to "Breaking the Chains". Total $900.
You can help by shopping at the Thrift Shop, 274 New York Ave, Huntington 11743
You'll be pleasantly surprised at the unique treasures you will find on the shelves.
2) There are 2 Ukraine Pets Donation Jars-
One at the Last Hope Thrift Shop; the other on the Dog Desk at our Wantagh Adoption Center.
We are collecting cash and coins. Please NO checks. That's too complicated.
3) To donate independently online, "Breaking the Chains" has a PayPal link:
       See Breaking the Chains FB page below
    https://www.facebook.com/FacesOfHopeDocumentaries
4)Some may prefer to give online to "Breaking the Chains'" partner rescue War Paws.
This group is evacuating pets to Romania and will be re-homing them throughout Europe.
5) Remember the money you donate online to these 2 rescues is converted to British pounds.
1 British pound = $1.30 US dollars
So please do the math before you donate online.
Thanks in advance for your help & kindness,
Pray for Peace in Ukraine
Any questions about Last Hope's Campaign for Ukraine Animals & "Breaking the Chains", please email jvsabu@aol.