WE DID IT, THANKS to YOU & ALL LAST HOPE SUPPORTERS.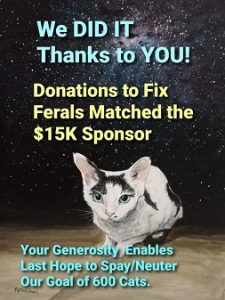 Last Hope's "Matching Funds for Ferals" Campaign ended midnight Jan. 31..
Last Hope received donations which will enable us to spay/neuter our completely matched goal of 600 feral cats via our FIX-A-FERAL free and discounted spay/neuter vouchers & possibly public TNR clinics.
Matching Funds were available Thanks to a $15K Donation from a Long-Time, TNR Advocate and Generous Last Hope Sponsor.
* Last Hope's 2021 FIX-A-FERAL voucher program is tentatively slated to start later this month.
*Feral Cats are Community Cats and Together as a Community,
We Can Help More of Them.
Last Hope Needs Your Continued Support so Our Feral Cat Resources Multiply.
If We Turn Our Backs on Feral Cats,
They'll Continue to Multiply.*
That is why we are resuming our "JUST ONE" plea.
Your $50 donation to allow Last Hope to spay/neuter ONE FERAL CAT will not be matched..
But actually, by helping "JUST ONE" FERAL CAT, you are really helping many because you are preventing many litters from being born to suffer the same, survival-mode existence as their  parents.
Please consider sponsoring "Just One" Spay by donating $50 (or more), via our PayPal link: below:
Or mail the check with your contribution to:
Last Hope Animal Rescue
"JUST ONE"
PO Box 7025
Wantagh, NY 11793
THANK YOU for your Support!
MANY THANKS to  All Our "Just One" Contributors!