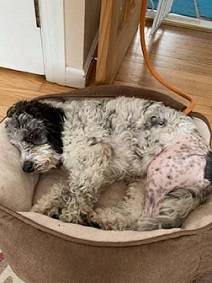 On Feb.25th our Poodle mix had a Total Hip Replacement at the Animal Medical Center (AMC) in NYC through the #AMCtotheRescue fund, and he is already as good as new.
The AMC is a prestigious teaching veterinary hospital.
"AMC to the Rescue" chooses pets from shelters & rescues in need of special surgeries, offered pro bono or at a minimal cost. The surgeries done by specialists at the AMC provide important learning experiences for veterinary residents.
OREO (now TIBERIUS, or TY for short) came to Last Hope on a Georgia transport in October.
His bad hip wasn't noticed until he got to Long Island, and his limp became evident.
OREO saw several vets & specialists who felt the 3 -year-old dog had an old fracture that healed incorrectly on its own, probably from being hit by a car. A Canine Total Hip Replacement is quite expensive.
OREO had been owner- surrendered to a Georgia shelter with " Unwanted" as the only reason.
OREO is an absolutely perfect dog. How can someone not want him? We wonder if the old injury is why his former owners got rid of him. Doesn't matter. He is now in an absolutely perfect home.
OREO spent two days at the AMC recovering.
He is comfortable at home. His Mom Barbara says:
" Ty is doing well, and it's only been 8 days since his operation. He sleeps without his cone, and is back to smoozing with his 13 yr old Schnauzer brother OLIVER and with our cats. We are so thankful to Dr. Robert Hart & his staff at the AMC."
** Last Hope is so grateful to "AMC to the Rescue" for making OREO whole again. As for being "wanted", this amazing dog was "wanted" from the moment he was chosen by Last Hope to come to Long Island.