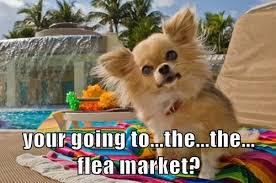 TIME AGAIN FOR ANOTHER HOLIDAY  FLEA MARKET/JEWELRY SALE ON DECEMBER 7TH from 10 am to 1:30 pm.
BESIDES  NEW FLEA MARKET ITEMS ,WE HAVE LOTS OF NEW JEWELRY ITEMS AND HANDBAGS.  ALSO HAVE AN ASSORTMENT OF GOLD AND SILVER

JEWELRY FOR SALE.
Where:
THE CHURCH OF THE ADVENT.  555 ADVENT STREET  WESTBURY.   ONE BLOCK EAST OF
POST AVENUE.
 D0nation Drop-off:
WE WILL BE ACCEPTING  DONATIONS AT THE CHURCH ON 12/6 FROM 2:30 PM TO 6:30 PM.   AS A REMINDER WE NO LONGER ARE ABLE TO ACCEPT BOOKS, VCR OR CASSETTE TAPES, USED CLOTHING OR TOYS, LARGE PICTURES OR FRAMES, AS THEY DON'T SELL.