MAY says: "May I Come Home
with You to Stay?"

MAY is an adorable 3 month old tabby rescued off the grounds of Pilgrim State Hospital in Brentwood.
Such a sad start in life.
MAY needs & deserves HAPPINESS & LOVE
for the rest of her life.
Meet MAY at Last Hope in Wantagh, and she will convince YOU to take her.
She will jump onto your shoulder to stow away .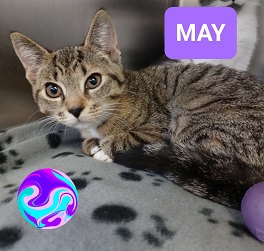 I've found my forever home! Thank you!