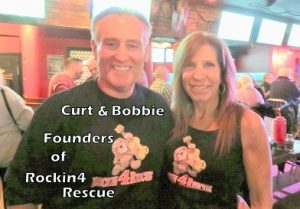 ROCKIN4RESCUE was Last Hope Animal Rescue & Yorkie911 's WOODSTOCK.
Yes, a WOODSTOCK in Amityville at The Warehouse, not Yasgur's Farm- Last Sunday's Marathon Concert Turned FUNdraiser for our Rescues' Orphan Pets.
A Whole Day of Great Rock Bands, Great Guitar Jams, Great Drummers & Great Lady Singers of the Janis Joplin Caliber….All for a Good Cause….All Performing Pro Bono…
Great Raffle Baskets…Great Guests, Volunteers & Supporters too.
All because of the Brainstorm of Bobbie & Curt Arnel to turn their combined passions for music & dogs into a non-profit called ROCKIN4RESCUE ..All because of "a little help from their friends ".
.
And All Because of the Hardworking ROCKIN4RESCUE Team that Never Stopped Helping Homeless Pets for a Moment while the 6 Bands Played Their Sets, and then JAMMED.
ROCKIN4RESCUE is the Perfect Pairing of MUSIC & PETS. Both MUSIC & PETS Bring Us Endless Joy…Both Should Be Celebrated. ROCKIN4RESCUE did Just THAT ,
& SO MUCH MORE.