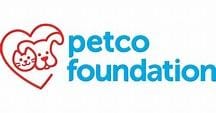 Our Petco Foundation Grant Gives a Mistreated Beagle Love & Life-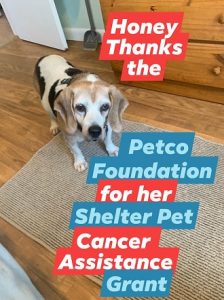 HONEY, an older Beagle who endured a rough life in rural Virginia, Received a Wonderful Gift of LOVE from the Petco Foundation.
Thanks to her "Shelter Pet Cancer Assistance Grant" from the Petco Foundation HONEY Received the Gift of Life…Thus far, HONEY has Survived a Year Longer Than Her Vet's Prognosis.
HONEY- estimated age 8-10 year- came to Last Hope in Nov. 2018 from Amherst Humane in VA….
She had whelped many litters & appeared as if she lived outside. She was never a pet..
HONEY was a breeding machine.
Upon examinations, our vets found a line of mammary masses, a heart murmur (4/6) and a lump on her neck. She also had E. canis a tick disease.
An echocardiogram showed her murmur was not really a problem but the throat lump was a thyroid tumor – most likely malignant.
That thyroid biopsy was inconclusive. HONEY was not a good surgical candidate for multiple mammary mass removal.
The Good News was 3 -prong:
1) HONEY went HOME with Last Hope president Linda to join her mature Beagle pampered pack.
2) HONEY was supposed to be in short-term home hospice care….That was pre-surgery & over a year ago. That was before she defied her diseases.
Linda took HONEY for an herbal medicine evaluation & for several surgical opinions. Our vet felt her heart was strong enough & the thyroid mass had to be removed.
3) In 2019, the Petco Foundation Shelter Pet Cancer Assistance grant awarded $2,500 toward HONEY's tests & cancer surgery..
HONEY came through the thyroid mass surgery, which was cancer ..With the help of multiple heart meds & cardiac monitoring, HONEY continues enjoy her Home & Life..
And with the generous support of the Petco Foundation grant, HONEY has had time to experience Love, Life & Pet Pampering