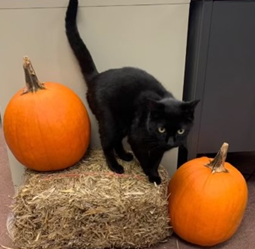 Last Hope provides the veterinary care needed to prepare close to 1,000 rescued dogs and cats for adoption each year. Whenever possible, we also subsidize medical expenses for  pets with owners who are disabled, facing financial strife, seniors on fixed incomes or in special situations so the owners are able to keep their pets.
Mamba Binx was a special situation. This emaciated, dirty cat was found wandering  an industrial section of Ronkonkoma near the airport by the workers of an optical manufacturing firm. At first they could not get near him, but left him food daily gaining his trust little by little. Eventually he came into the office of the company, and became their mascot as he enjoyed petting and jumping on staff members' desks for cuddle time throughout the work day.
They took this cat they named Mamba Binx to a nearby vet for a general health exam and vaccines and to find out why he seemed to be in pain and leak droplets of urine on desks . The doctor recommended further testing which was when Last Hope was called for financial assistance.  Our vet determined he had blockage of crystals common to male cats, creating the inability to pass all his urine, but needed more than the regular blockage surgery. Mamba required a life-saving, but more costly operation to "revamp his plumbing" called a perineal urethrostomy (PU). Immediate surgery was necessary to restore him to a pain free life.
Last Hope did not hesitate to help Mamba Binx.  He has been successfully operated on and given an excellent prognosis. This young male black cat has been sorely missed by his office friends.  The expense of this operation was significant for the office staff and Last Hope, but we felt it was worth it and we think you do too. Please help us cover our expenses toward Mamba Binx's  life-saving surgery by clicking the "Donate" button below and contributing to our Mamba Binx campaign.