RODGER is READY for a HOME & next HALLOWEEN
Our 7 month old Shepherd mix from Georgia dressed as the Caped Canine Crusader to impress you with his fondness for DC Comic Super Heroes.
This handsome pup would love a special someone who will shape his playfulness into his pup potential as a family dog.
He'd love to be adopted by an admirer who will teach him the polite way to TRICK or TREAT everyday. He already sits on command in his kennel.
RODGER has been working with our trainer to learn proper manners. He is making progress.
By the way, RODGER goes home with his complimentary BATMAN costume, hopefully before next Halloween.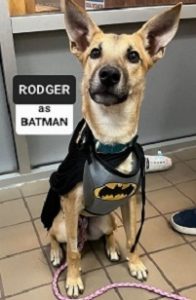 Come visit me at the Dog Adoption Center.
[contact-form 3 "Dog Adopt"]