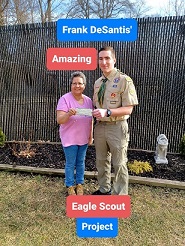 Frank DeSantis is a senior at Farmingdale High School. He spent the last year planning, fundraising & completing his amazing Eagle Scout Project.
Frank re-designed the Last Hope dogs' play yard and added his vision for a safe & comfortable playground with preparatory equipment for our future agility aces.
Frank's creative ideas have enhanced "recess for our rescued dogs".
First Frank fundraised by holding 2 car washes, and also asking friends & family to help his ideas take shape.
Let's tour Frank's Eagle Scout Project:
Outside the fence, and away from the galloping paws, Frank improved the flower bed, added 2 dog statues, colorful bushes & mulch.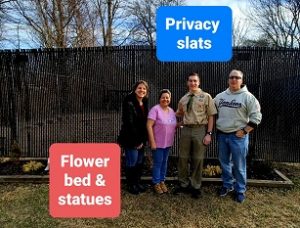 He installed privacy slats in the tall, cyclone fence to focus the dogs' attention on their activities rather than barking at the Bideawee dogs or feral cat colony.
He put in a water-tight equipment chest next to rubber brick flooring. He put a dog hoop jump & stand in the chest.
In another yard , he built a wooden walking plank-similar to a low balance beam.
Against the opposite fence, he placed brick stepping stones, and in the middle of the yard is a low seesaw. This helps dogs get used to standing on the middle of the seesaw and feeling & hearing the board drop with their weight.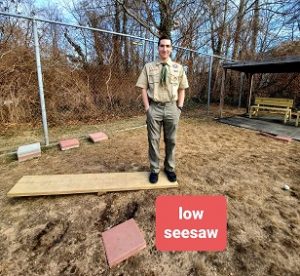 In the back corner, are the 2 benches Frank built placed on top of a rubber brick mat that he installed into the dirt & sand so the mat doesn't move.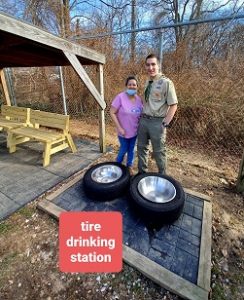 Next to the benches is the tire drinking station. The big metal bowls are removable for cleaning. The tires are placed on more rubber brick flooring.
When Frank was finished, he presented Letty , Last Hope dog coordinator, with a $500 check from his Troop 261. This generous gift to Last Hope is the remaining money from Frank's fundraising for his project.
Frank will be starting college next year. He hopes to be accepted into an Aviation Program.
His intricate, well-planned Eagle Scout Project is visual proof that he has the makings of a fine student pilot and a skilled student of all aspects of aviation.
Thank YOU to Frank DeSantis & Troop 261 for building our dogs a dream play yard.