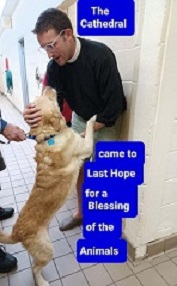 The Cathedral of the Incarnation came to Last Hope to Bless Our Dogs & Cats in Honor of St. Francis of Assisi Feast Day
On Oct. 4th,
ur homeless pets were Blessed by a visit from Fr. Michael Sniffen dean of the Cathedral in Garden City, Kyle Sabo who runs Cathedral for Dogs & Rebecca Maines who runs Cathedral for Cats & is a Last Hope cat adopter.
They came bearing gifts- tons of petfood & other goodies from the congregation donations on Sunday, October 3rd-St. Francis of Assisi Day.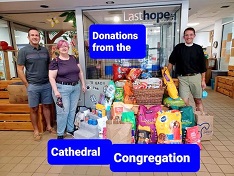 Fr. Michael blessed each pet & volunteers too. Special attention was given to SALLY our Golden Retriever mix suffering from skin allergies, TOM our Lab mix about to undergo heartworm treatment, NINJA our free roamer cat in remission from cancer & Hound DUKE because he's just so handsome .
Our special guests listened to all the pets' sad stories. TIPPY was fortunate to be blessed just before leaving for her new home.
The Cathedral of the Incarnation wants to continue a partnership with Last Hope which is a Special Blessing in itself. We are so grateful, and to borrow a line from Casablanca:
"I Think This Can Be the Beginning of a Beautiful Friendship!"