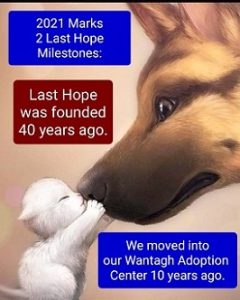 The Year 2021 Marks 2 Milestones for LAST HOPE.
We are Celebrating  40 Years of Animal Rescue; and 10 Years of Operating at Our Wantagh Adoption Center. LAST HOPE was established and incorporated in 1981, and we moved into the Wantagh Shelter in early June 2011.
Unfortunately, 2021 is not a year for a public celebration, but we hope to hold a joyous & safe event in 2022.  Counting the exact number of animals we have helped over the last forty years is an impossible task. Instead, here are our estimated adoption numbers for the last ten years- 5,000 cats and kittens; 3,000 dogs and puppies! All delivered to their new homes after rigid, pre-adoption screenings, health checks including spay/neuter, appropriate vaccines and follow-ups.
Our Community Outreach Programs expanded over the last 10 years- to our well-recognized Fix-A Feral voucher program, our free feral cat spay/neuter days, our southern to northern shelter rescue transport partnerships, our joint rescue efforts with Long Island municipal shelters, our veterinary assistance program for pet owners facing financial hardship, as well as free and low-cost pet vaccination clinics for Long Island pet owners.
No injured or sick stray or feral animal is denied access to veterinary care. The welfare of dogs and cats is the chief concern of LAST HOPE. Once a LAST HOPE pet; always a LAST HOPE pet. Our many dedicated volunteers will always be the core of LAST HOPE.
This June, as a symbol of your support of our work, we are asking everyone who can to help us by giving. (There is a PayPal link for each suggested donation):
$10 for LAST HOPE's 10 years of operation of the Wantagh Adoption Center:
https://www.paypal.com/cgi-bin/webscr?cmd=_s-xclick&hosted_button_id=482D9W98QQHRS
and/or
$40 for LAST HOPE's 40 years of operation:
https://www.paypal.com/cgi-bin/webscr?cmd=_s-xclick&hosted_button_id=Z6REB2BJQRLXS
THANK YOU. LAST HOPE is ready to rescue and place more animals than ever before with your support.