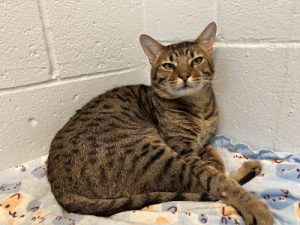 '
SIMBA! Say his name loudly.
SIMBA! Say his name softly.
SIMBA has waited a long time for this day, and a long time for this Last Hope FB post…actually, he's waited just about 6 months. In January, John Debacker rescued SIMBA in Oyster Bay. This handsome 3 year old cat was having trouble walking. Our vet discovered he had leg & hip injuries, SIMBA had complex surgical repair by a veterinary specialist, and then several months of cage rest. This week after DYLAN was adopted, SIMBA moved into DYLAN'S big cage. He can move & climb with ease. SIMBA is a special fella. He has traits of a Savannah or another exotic breed.. He is very vocal, and doesn't hesitate to speak to visitors. He is marked like an exotic feline, but smaller than most Savannahs or Bengals. He may not be first generation exotic. We have no breeder paperwork, and I have spoken to a rep from prominent dog DNA company. They are not planning on producing cat DNA tests. We do know SIMBA is smart, purrsonable & affectionate. However, we' d prefer an adopter experienced with exotic cats because these cats are so smart & dexterous that they can get themselves in trouble by….. Opening cabinets, doors & such. Please Help Spread the Word: SIMBA NEEDS A HOME…preferably with someone Savannah- savvy .
If you are interested in learning more about him, please send us an email to adoptions@lasthopeanimalrescue.org or fill out an application from our website.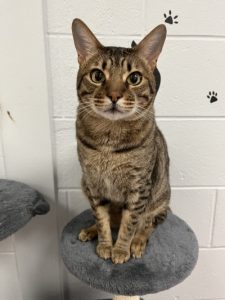 I've found my forever home! Thank you!