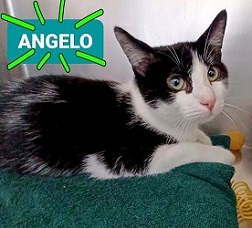 ANGELO Does GLOW.
He's a Tuxedo Kitten with a Fancy Face.
ANGELO made his debut at Last Hope Cat Adoption Center.
He is the brother of BRENT & WOODY who were recently adopted.
ANGELO hopes to be the next kitten in his family to be placed.
ANGELO comes from a distressing situation in Brentwood. A woman allows her cats to have kittens. The kittens grow up inside her house. She won't let anyone spay the parents or kittens for her.
When each litter reaches 4, 5 months old, she gets frustrated with the active, bigger kittens & demands the rescue person take the kittens away.
The rescue person feeds, shelters, socializes,
spay/neuters and vets them completely.
Yes, ANGELO is a 9 month old tuxedo…he has everything needed, EXCEPT a Loving Home.
Meet ANGELO Today or Even Sooner .
I've found my forever home! Thank you!