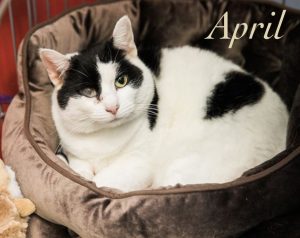 Sweet, calm April is one of  Last Hope's overlooked darlings.  Please come meet her.  Adult cats make the best companions.
April Showers Brought May Flowers, and the Many Months  Pretty APRIL has  Already Waited for a Home of her Own…
APRIL is a lovely, quiet cat…She was rescued in West Babylon in April 2019.  She was born in April 2016.  She has scarring in her right eye, but it doesn't need any treatment, and she sees well.
She patiently waits at Last Hope Wantagh for someone to notice how sedate & great she is.   She is waiting for you!
Update 3/2020: April is currently in foster care with a Last Hope volunteer during the pandemic shutdown.
I've found my forever home! Thank you!