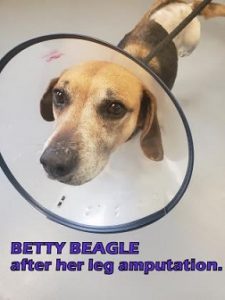 Shot in the Leg! LAST HOPE Wants a Better Life for BETTY BEAGLE- a Much Better Life
That' s why this Beautiful 5yr old Gal, discarded to die in Kentucky like so many others of her trusting breed, came to Last Hope.
She was found with her rear leg, injured & dangling. Shattered by a shot gun, & left to fend for herself. Such utter cruelty!
BETTY's leg was recently amputated in Kentucky but she was under anesthesia so long, she couldn't be spayed during that same surgery.
Poor BETTY also tested heartworm positive, and she will do best in a Last Hope Foster-to-Adopt Home while undergoing her heartworm treatment & recovery. She is a sweetheart who wants to be with you.
We don't know if she was named after the late animal angel, Betty White…but we do know that Betty White would approve of BETTY BEAGLE's commitment for care at Last White.
  Betty was spayed while at Last Hope and at the same time a line of mammary masses were removed and biopsied. Still waiting for reports.
And, it's absolutely wonderful that so many kind people have donated $ to Last Hope in Betty White's memory. We didn't hesitate one second before promising to do our Best to make BETTY BEAGLE's future very bright.
Meet BETTY BEAGLE at Last Hope in Wantagh. She doesn't hold a grudge against humanity even though she has been treated so poorly. Dogs are completely amazing.
Come visit me at the Dog Adoption Center.
[contact-form 3 "Dog Adopt"]