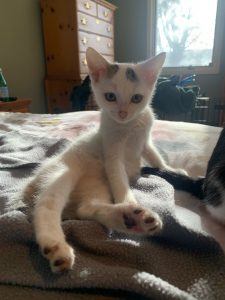 Meet the "MEWSICAL" litter….ARIANNA, BEYONCE, CHER, and DRAKE. These 4 adorable little kittens have lots to sing about. They were rescued when they were just a few weeks old and have since been in foster care with their "mommy" and best friend. Their foster mom says these 4 kittens are absolute loves. They never sit still for a photo because they are so happy to be running around, playing, and cuddling on her lap. They are true lovebugs who just want to brighten up people's lives with their loving personalities. Are you ready for a little superstar in your life?
So if you are interested in learning more about BEYONCE, please send us an email to lasthopeadoptions@gmail.com or fill out an application from our website.
I've found my forever home! Thank you!